Smile Confidently with Implant-Supported Dentures
Widespread tooth loss creates issues chewing comfortably and speaking clearly. These concerns are not always corrected with traditional dentures and can significantly impact your day-to-day life. Dr. Nicholas G. Rendon is excited to offer implant-supported dentures using the All-on-4® method. This minimally invasive technique can be used to restore form and function to one or both dental arches. In addition to 30 years of experience, Dr. Rendon is a member of the American Society of Implant & Reconstructive Dentistry (ASIRD). On average, he handles roughly 100 implant cases each year at our Vero Beach, FL, practice. Dr. Rendon is genuinely invested in restoring our patients' health, confidence, and well-being.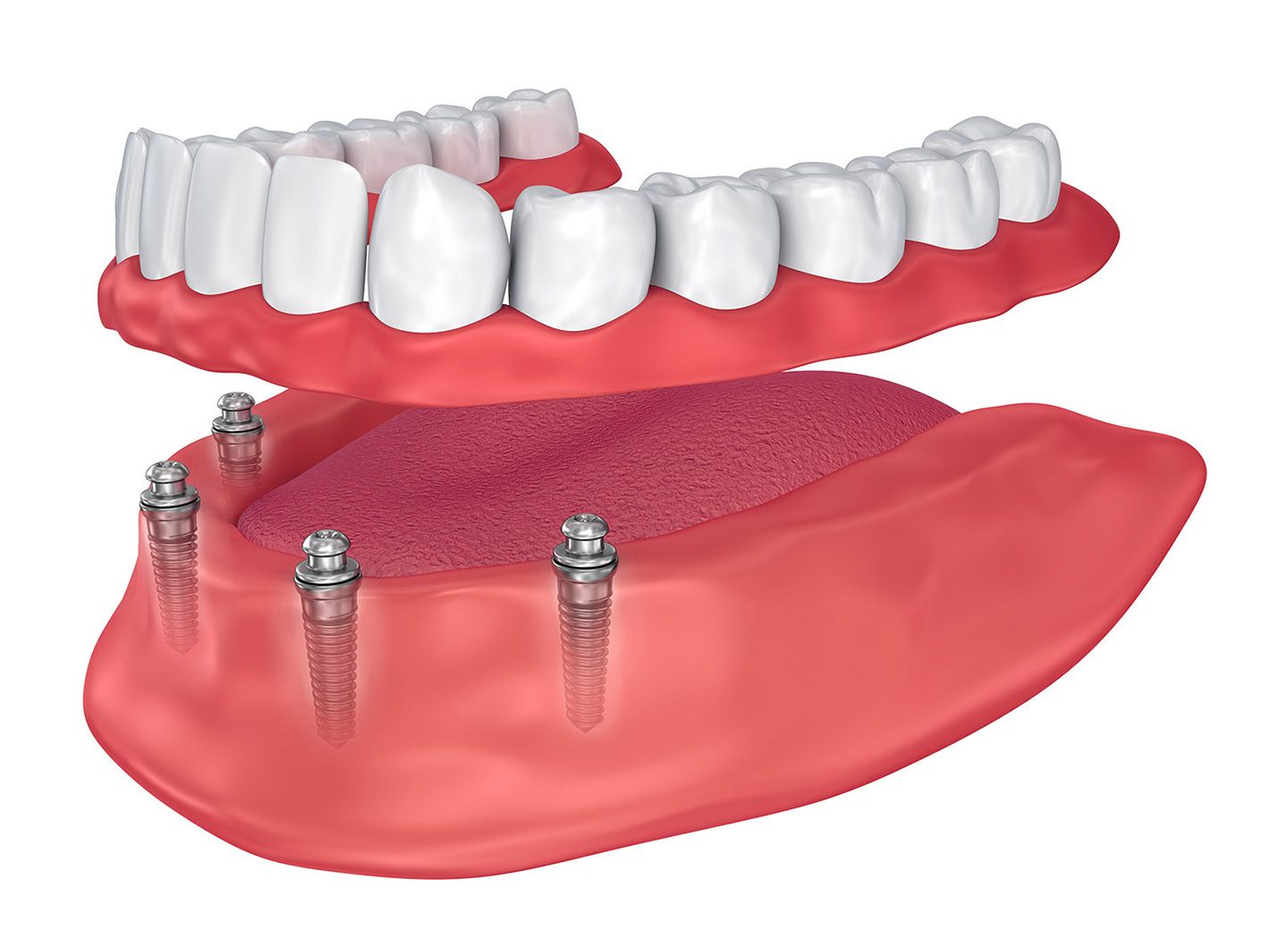 The Effects of Tooth Loss
Even one lost or extracted tooth will have adverse effects on your oral health, specifically your jawbone and surrounding teeth. Without tooth roots to stimulate the surrounding bone, the jaw will begin to weaken and recede over time. This can cause the surrounding teeth to shift, loosen, and eventually fall out.
Strong, healthy teeth provide essential support to your facial structure. As you lose more teeth, your cheeks and lips may begin to lose shape and sag. This can significantly age your appearance and take a toll on your self-confidence. Additionally, you may find it more difficult to speak clearly and chew. You may need to make adjustments to your diet, eliminating certain healthy foods, which could affect your nutrition.
Weighing Your Options
While traditional dentures offer an adequate solution for some individuals, these restorations cannot provide the level of comfort and stability that many of our patients want.
Traditional Dentures
Traditional dentures are held in place using a dental adhesive and natural suction, meaning they often slip out of place at embarrassing moments. Additionally, traditional dentures do not stimulate the jawbone so it will continue to deteriorate and lose density. These structural changes will lead to ill-fitting dentures over time, which can be inconvenient and frustrating.
Implant-Supported Restorations
Implant-supported dentures offer patients a stable alternative that will not shift or fall out when speaking or chewing. Patients can experience increased confidence and comfort, and enjoy all their favorite foods again. Dental implants protect the jaw and can maintain a youthful appearance for years to come. Since insurance does not typically cover implant-supported restorations, Dr. Rendon accepts CareCredit® and LendingClub so a greater number of patients can invest in this superior treatment option.
The All-on-4 Technique
In contrast to conventional implant-supported dentures, the All-on-4 technique uses just four implants to hold the restoration in place. The process not only requires fewer implants, but the posts are placed at an angle to maximize contact with the bone. This means patients who have experienced jawbone atrophy are often suitable candidates without the need for bone grafting.
Implant-supported dentures provide our patients with a restorative solution that looks, functions, and feels like natural teeth.
Patients can typically receive a denture on the same day of their surgery. However, a permanent custom prosthetic will be provided after the healing period, roughly four to six months later.
Choose Unparalleled Results
If you are seeking a treatment solution that allows you to fully engage in all the pleasures life has to offer, we can help. Contact us online or by phone at (772) 770-4787 to learn more about whether implant-supported dentures are right for you.